«Height Increase» Program
---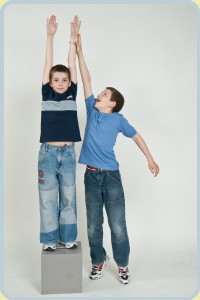 «Height Increase» Program allows grow taller, using «growth reserve» of the organism in the period when physises are open (under 25 years) and increase height to 10 – 15 cm, in comparison with baseline. The program also stipulates a recovery of natural height to 3 – 5 cm for adult people by restoring of intervertebral disc height.
«Height Increase» program is based on effect of stretching exercises, which conduces release and stimulation of vertebral growth plates, enlargement of intervertebral spaces as well as increase of spinal tissues blood supply and activation of metabolic process in the discs. Taken together these process lead to height increase.
Training Method:
Two alternating sets of exercises. The exercises are performed with a help of a special orthopedic training device - the Inclined board "Prophilactor Evminova".
Training Regime: training.
Tempo and manner of performing exercises: slowly, smoothly.
Length of workout session: 20 – 40 minutes.
Frequency of trainings: 5 – 8 times a day.
Duration of the course: 2-3 month.
In Addition: taking vitamins and minerals, dietetic nutrition.