Training Programs According to Evminov Method
---
All training Programs based on the Evminov Method are devided to four main groups:
Medical Programs are destinated for treatment of different spinal disorders, such as scoliosis, osteochondrosis, hernia of intervertebral discs, protrusions, spondylolisthesis and other diseases. Trainings on the Inclined board "Prophilactor Evminova" according to the Medical Programs remove acute conditions which are characterized by pain syndrome, recover spinal column functions after injuries and surgical interferences.

Sanatory Programs help to solve a problem of physical inactivity. They are useful for people who have to spend lots of time seating at the desk, at the computer, at the wheel.

Sanatory Programs also help people whose work is connected with physical exertions to strengthen spinal muscles and provide a reliable protection to the spinal column. These programs will be also useful for people suffering from stress and nervous prostration.
Sports Programs. Trainings on the Inclined board "Prophilactor Evminova" according to the Sports Programs can easily substitute trainings in a gym. Selective sets of muscle-strengthening exercises allow effectively form "muscle corset", develop endurance. There are also sets of exercises for development of joint mobility and flexibility. Sports Programs on the Inclined board "Prophilactor Evminova" according to the Evminov Method is the best choice for people who would like to have a gym at home.
Special Programs. These programs are created to complete special tasks: weight loss and cellulite removal, body shaping, height increase and recovery of natural height. Special programs also include sets of exercises for drivers, dentists, office staff, athletes and other people whose spinal column suffers from permanent single-type loads, connected with their occupation. There is also a special program for spinal column support, created especially for pregnant women.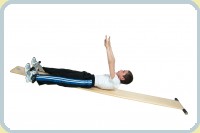 One more group of Programs can be separated on the age basis – Children's Programs. The Evminov Center pays special attention to postural and spinal disorders in children, as well as to executing the idea of getting into the habit of caring for the spinal column (which is a basis of people's health) since childhood.